Ah Cookies, cookies, and more cookies. Who doesn't love cookies? Crispy, sweet, crunchy, moist, delectable. All adjectives that can be used to describe the little round baked products most of us crave so often. One of my favorite cookies is Italian Bakery Cookies. When I was little, the town I grew up in had many bakeries and some had the word "Italian" in their store name. Rolls, Cannoli, Napoleons, and Eclairs among the items to be had on the shelves. I used to love going to the Italian Bakery on Saturday morning with my Dad for rolls and treats. Around the holidays there were gingerbread men. Oh the memories.
Anyway, these days I am hard pressed to find a bakery or a shop that sells anything close to the confectionery goodness I had as a little boy. Until, well now. Barbara's Cookie Pies has the most incredible butter cookies I have tasted in a long time. These are just like the Italian Bakery favorites from long ago. I have had butter cookies lately from several sources like warehouse clubs and supermarkets - the cookies are dry, lousy tasting, brittle, and not desirable. Barbara's cookies are different! The baked goodies are made fresh with all natural ingredients, no preservatives, from a family recipe; Barbara's family.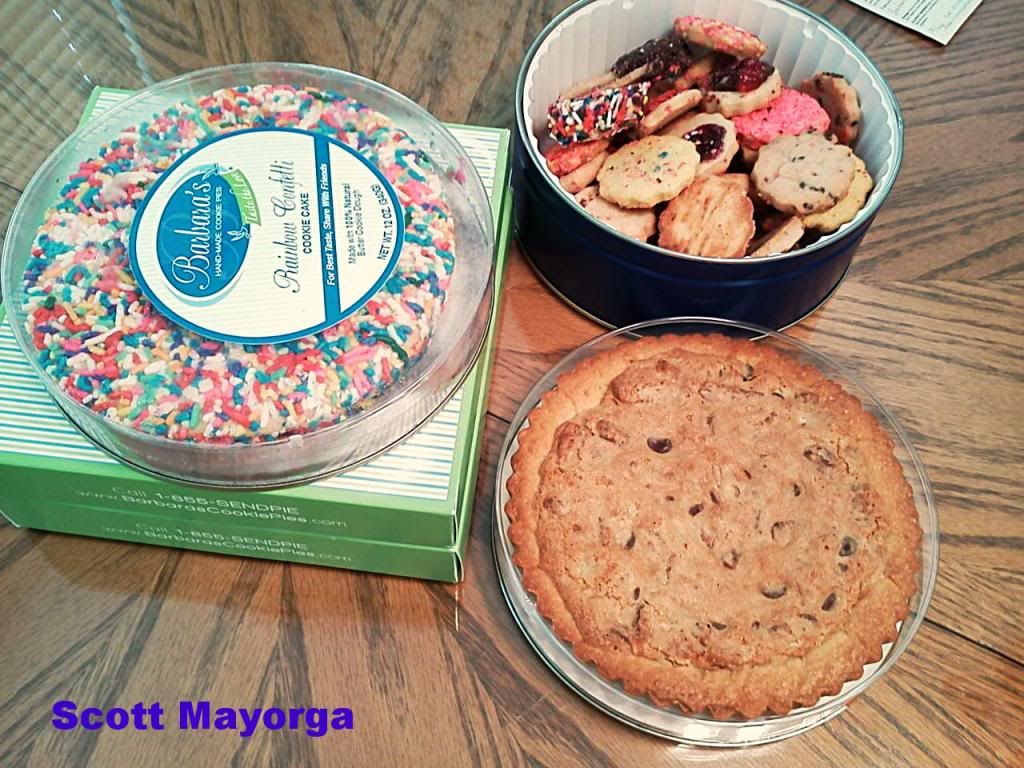 Let me tell you about these cookies. They smell fresh and wholesome as soon as opening the package commences. Visibly, they are yellow-white butter cookies decorated with cherries, nuts, sprinkles, jellies, chocolate dipped, and jelly filled. My favorite is the Joey Joy Rainbow Sprinkle cookies. All of Barbara's butter cookies are moist, soft, crumbly textured cookies. The jellies are sweet, smooth, and not gummy like the lower quality cookies I have had recently; you know when you bite the cookie and the jelly sticks to your teeth like a gum drop - not good!. No these are different. The jellies melt in your mouth leaving a fruity sweet taste with no preservative aftertaste. The chocolate dips are delectable and compliment the buttery taste of the cookies so nicely.
If you have a desire for excellent, butter cookies ( I call them Italian Style Butter Cookies) then look no further than Barbara's Cookie Pies. So convenient ordering on line. Remember though - these cookies are preservative free and must be eaten right away or within 2 weeks stored in refrigerator 2-8 * C, or store for up to 6 months in a freezer.
They really are fabulous.
Scott Mayorga
Contact Barbara's Cookie Pies and order some for yourself or as a gift
http://www.barbarascookiepies.com/pages/contact-us.html
https://www.facebook.com/BarbarasCookiePies